How to secure a construction site
Building site theft has been on the increase steadily over the last few years. UK Police estimate tool theft from construction sites to be around £95 million per year. Good construction site security in the West Midlands can be hard to come by. There are many security firms in Birmingham and surrounding areas that offer construction site security but a few stand out. We will consider those later.
According to the Federation of Master Builders, 'Tool theft is plaguing the construction industry with more than half of the builders in the UK having had their tools stolen.
Here are the key results from an FMB study into tool theft carried out in 2018.
More than half (51%) of UK builders have had tools stolen
Of those builders that have been victims of van tool theft,
46% had their side panel or door broken/pierced and prised open
23% had their windows smashed and doors opened from the dashboard
22% had their locks picked.
How to prevent tool theft
According to the FMB, the most common preventative measures to limit tool theft include:
Bringing their tools inside at night (19%)
Installing extra locks in the van (19%)
Parking against a wall (18%)
Marking tools with an address, phone number or painting them a special colour (9%)
Parking in an area not visible from the road (9%)
Installing safes in their vans (7%)
Installing CCTV and advertise its use (7%)
Installing extra alarm systems in the van (7%)
Registering serial numbers of tools on an online database (7%).
Information from (https://www.fmb.org.uk/resource/half-of-builders-are-victims-of-tool-theft.html).
The impact of these thefts affects small construction companies the most. Usually, these smaller building companies do not have the money to replace stolen tools and so cannot complete the work. This is causing many smaller construction companies in the UK to shut down. This has caused a shortage of good construction companies in the UK and is severely affecting the construction Industry.
Brian Berry, Chief Executive of the FMB said that one of the most cost-effective solutions for tool theft could be installing CCTV. This needs to be monitored by a CCTV operative and can be very effective in reducing criminal activity on construction sites.

How to reduce building site crime in the West Midlands
Theft and vandalism are estimated to cost the UK construction Industry sector over £800 million each year! The construction and building industry are easy targets for opportunist thieves and vandals. Insecure building sites are increasingly attracting thieves.
The Construction Equipment Association (CEA) has reported a 50% surge in construction site crime rates since the coronavirus lockdown. PBCtoday reported, "Police forces across the UK are taking extra patrols in emp­ty city and town cen­tres, as bur­glars tar­get shops, pubs and construction sites dur­ing the coro­n­avirus lockdown."
Even though Covid-19 restrictions have been relaxed recently the problem is still there. Opportunist thieves who struck building sites during the lockdown now know the weaknesses and access points of these sites. They are far more likely to strike again now.
The majority of construction site theft is due to a lack of security measures on the building site. Simple things like a manned guard, security fencing, CCTV and mobile patrols can reduce construction site theft remarkably. Additional security issues include site monitoring, risk assessments, unauthorised access and access control. We will consider a few now.
Entry & Exit System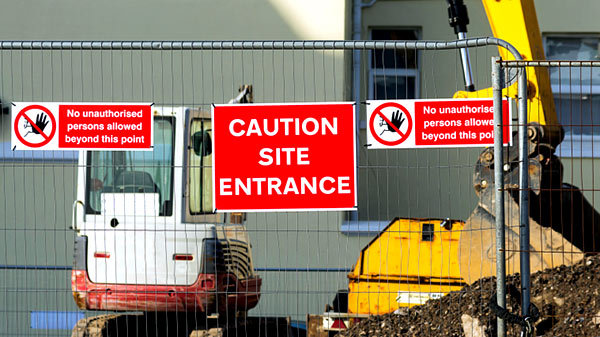 It is essential and in many places a legal requirement to have fencing around a construction site. Having a controlled entry and exit point is paramount to any decent security programme. Adding site security barriers or fencing from a reputable security company in Birmingham can be a great deterrent to potential thieves or vandals. An Australian company has come up with an ingenious new temporary fencing solution. Unfortunately, they are not supplying to the UK yet but the owner told me recently that a UK supply is in the pipeline.
CCTV
CCTV is an excellent security measure to tackle construction site theft. CCTV can alert you to unauthorized persons on your building site. It can also record any suspicious behaviour, which is used later by the authorities or insurance companies.
Due to the restrictions of a wired CCTV system, a wireless system is recommended. As your site grows, a wireless CCTV system can easily cover the changing landscape and cover new blind spots.
Manned Guard & Mobile Response Units
These are arguably the most effective construction site theft prevention measures. Having a trained and experienced manned guard on your construction site can reduce theft and vandalism significantly. If a permanently manned guard is too expensive then a mobile unit is very cost-effective. A mobile unit can visit your building site at set times or at random times during the night. This highly visible presence is a huge deterrent to potential criminals.
Eagle Security Protection have nearly 10 years of construction site manned guarding experience in Birmingham and surrounding areas such as Dudley, Wolverhampton, Sutton Coldfield and Coventry. We can respond to any security issue in the West Midlands in a timely manner. All our security guards are SIA licensed, trained, experienced and fully vetted. They are professional and polite and will co-ordinate with site managers to carry out risk assessments. 
Don't wait until you're a victim of construction site theft or vandalism. Call us on 0121 240 8586 for a free quote.