Construction Site Security in Birmingham
Building Site Security in Birmingham & West Midlands.
Fully qualified, reliable and honest. 1 hr deployment.
Construction Site Security in The West Midlands
Construction sites are easy targets for criminals, due to the abundance of machinery, equipment, tools and materials often left on site. All these items can be easily re-sold making building sites prime targets for thieves. The need for reliable construction site security has never been greater. If you need building site security guards in Birmingham, Coventry, Sutton Coldfield, Dudley, Solihull or Wolverhampton, that are SIA licensed call us now on 0121 240 8586.
Is Construction Site theft in Birmingham getting worse?
According to UK Construction Media, theft and vandalism within the UK's construction industry cost the sector over £800 million last year. This is a conservative figure since some crimes aren't reported. They went on to say, "Despite warnings and growing crime rates, owners of construction sites and tradesmen leave themselves vulnerable as they do not do enough to protect their businesses."
The Chartered Institute of Building recently revealed in a survey that 92% of respondents were directly affected by petty crime and 21% stating their construction sites were robbed every week. Also, the Construction Leadership Council recently warned that the materials shortage we have seen lately in the construction sector is due to continue. This is bad news for Construction companies who are already finding it difficult enough with the recent Covid-19 pandemic.
Why is construction site security important?
The question isn't  "will my construction site get robbed", but,  "WHEN will my construction site get robbed!" If thieves haven't targeted your site yet, then you're either one of the lucky ones, or you already have site security.
A skilled construction site security guard or team can prevent thefts, stop vandals and prevent damage to your property and machinery. This can save 1000s of pounds in the long run. Many construction companies feel that paying out for building site security is too expensive and a waste of money. Sadly, many have found out the hard way that construction site security is actually a money saver. Not to mention the peace of mind that comes with knowing your building site is safe and secure.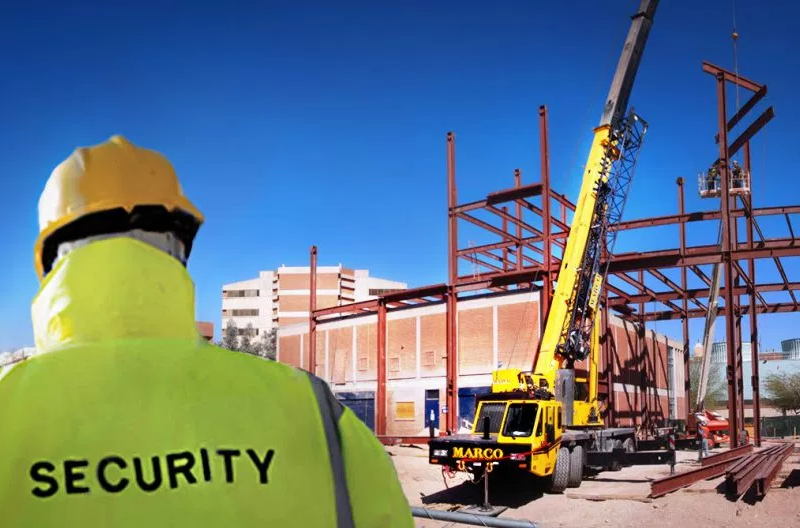 How can I secure my construction site in the West Midlands?
All construction sites are different, both in location and security needs. That's why we offer a wide range of security services across the West Midlands to help you prevent theft and damage on your site.
Mobile Security Patrols – A regular mobile patrol can be a great deterrent when it comes to combatting construction site theft. It's a cost-effective choice and all our mobile security guards in Birmingham and the West Midlands are SIA licensed, trained, experienced and fully vetted. This offers a highly visible presence on your construction site and acts as a deterrent to possible thieves or vandals. Our mobile security guards provide key-holding and rapid alarm response services to give you peace of mind.
Manned Guarding – The benefit of a static security guard is that you have 100% protection when it comes to theft or damage to your construction site. It is one of the most effective ways to safeguard your site, materials and assets.
With over 10 years of experience in the security industry, we have the knowledge and insight to deal with any construction site situation. All our manned guards are SIA licensed and trained at our own accredited training centre. As well as protecting your construction site, our security guards are fully equipped for health and safety, and key lock services.
CCTV Monitoring – CCTV cameras can provide a deterrent for criminals, but they are only effective if they are monitored. This can affect a quick response to any incidents on your building site. Our construction site security guards in the West Midlands are trained as CCTV guards and co-ordinate with our mobile security patrols to ensure your site is fully protected.
Birmingham and West Midlands Construction Site Security Company
There is no doubt that construction site theft is on the increase. Just a quick scan on local newspapers throws up headlines such as, 'Mini digger stolen from construction site in Lichfield.' With the effects of the Covid-19 pandemic still taking their toll, construction site security is essential, not a luxury now.
Eagle Security Protection Ltd have been providing Birmingham, Coventry, Sutton Coldfield, Solihull & Wolverhampton with Construction Site Security Guards since 2012. We are regularly sub-contracted by larger security companies due to our reliability, professionalism, experience and fully trained and approved security guards. Add to this the fact that we can deploy security guards anywhere in the West Midlands area and you see why we are one of Birmingham and West Midlands forefront construction site security companies. Give us a call today on 0121 240 8586 or email us at [email protected] for a FREE no-obligation quote and start securing your construction site today.
What People Say About Us?
Having worked on building sites for the last 20 years, I have worked alongside many security companies. Many of the previous companies seem to be a visual presence on site only. Eagle Security Protection go above and beyond the call of duty to ensure that the site is always secure and that all staff on site stay safe. They do this with a personal yet professional approach that made all the difference when you work with a company every day 24/7. I would not hesitate in recommending the services provided though Eagle Security Protection Ltd to anyone who requires security services.
Eagle Security Protection is well organised security firm operates almost West Midlands area and also East Midland. The manager is really friendly and approachable all the time. I am really pleased working with Eagle Security Protection.
Very good firm to work with. Honest and hardworking. Quick to respond. I recommend.
Professionalism, Quality, Responsiveness, Value